8 avril 2010
4
08
/

04
/

avril
/

2010
13:29
Amur leopard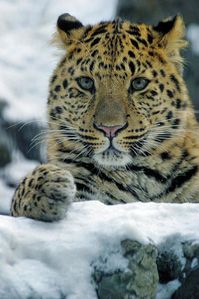 Name :Amur leopard
Habitat :Asia
Diet :Carnivore
Male armur leopards weigh 32–48 kg, with exceptionally large males up to 60–75 kg, Females are smaller than the males at 25–43 kg.
Leopards are endangered because of poaching.
There appears to be poaching of leopards as well as their prey species. Poachers include both poor local villagers and newly rich Russians, mainly from the city of Vladivostok, as well as Chinese nationals who illegally cross the border into Russia. Russian hunters kill many more deer than is officially allowed and Amur leopards are sometimes caught in snares as well.
Since 2002, skins or corpses of nine Amur leopards killed by poachers have been found in Russia and at least two leopards have been killed in China.
Leopards are also threatened by the loss of their habitat.
The forests on which Amur leopards depend have slowly disappeared as a result of frequent fires.