17 décembre 2009
4
17
/

12
/

décembre
/

2009
13:32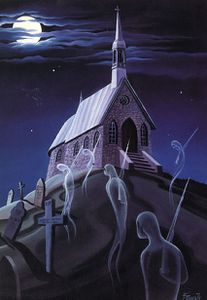 On a cold November night, I was eating with my friends we were having a pizza party at a friend's place, just as usual.
We were speaking our little stories when we heard a dog barking.
We thought that was just the dog of the neighborhood but the barking was endless.
So we stood up and looked out of the window but at the same time somebody knocked on the door. But when we opened the door, there was nobody there.
A few minutes later the lights went out, the television began to change channels and all drawers opened.
We were very scared.
Suddenly the phone rang but no one spoke over the phone, we could just hear someone breathing. At the same moment, the door opened and a large figure appeared to us. We all screamed and the figure disappeared . Then it reappeared and told us in a creepy deep voice:
"What are you doing here? this is my Home ... you must leave! "

We were terrified and couldn't move a finger. the ghost was becoming nervous and set the house on fire. The flames were all around us. My friends screamed in terror.
The fire fighters and the police arrived quickly and did not believe a word we were saying.