10 février 2011
4
10
/

02
/

février
/

2011
15:07
Slavery started in the 17th century with the arrival of Black slaves from Western Africa.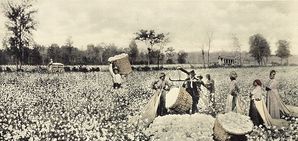 They were brought to America by force to work on the tobacco, cotton and sugar cane
plantations in the Southern States.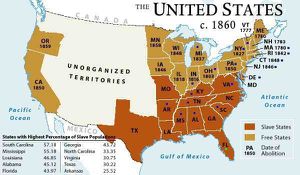 Slaves did not have many rights: they had to work from sunrise to sunset and had to sleep in
small huts on the plantations. they had to wear old and ill-fitting clothes. They were not allowed
to use their birth name, to speak in their native language and they were not allowed to be
educated at all. Of course, they were not allowed to leave the plantation.
Some workers were allowed to sing during the day when they had to coordinate their efforts.
Their work songs dealt with daily life. They were a "question/answer" kind of songs and the
noise of the cutting or of the shovel replaced the sound of the drums.
As for prisoners, they used to sing chaingang songs while they were working on the roads or
on some constructions.
Yet, some slaves were able to make some instruments in their free time. everybody gathered at
night in secret meetings and they could sing and share their joys, pains and hopes. Because they
were strongly influenced by their master's religion, they would sing Negro Spirituals, talking
about Jesus, the Lord, Biblical figures and the Promised Land.
The most famous Spiritual is "Go down Moses" (let my people go).